PROFESSIONAL ROOF REPLACEMENT & REPAIR IN SAN ANTONIO & AUSTIN!
HAIL DAMAGE REPORTED: WEST SAN ANTONIO and SOUTH AUSTIN! AREAS: Portranco Rd & 1604 in San Antonio TX on April 28th in zip codes: 78227, 78251, 78245,78752, 78754, 78756, 78737 and 78712. HAIL DAMAGE AUSTIN, Brushy Creek, Cedar Park, Leander, Pflugerville, Round Rock: Zip Codes: 78681, 78717, 78613, 78641, 78766, 78681, 78681 Our technicians are in both of these areas today. We are ready to provide free estimates, assist with making your insurance claim and begin repairs. Book now. We're the Best Roofers in San Antonio and Austin. SA TX License #H-930615 | CC TX License #17LPL1784
Welcome to BETTER ROOFING USA INC, a residential and commercial roofing contractor serving greater San Antonio and  Austin areas. Since 1992, we have been the best choice for roof repair done right! Our crew of highly trained roofers has worked together for years. Whether it's a simple roofing repair, an entire roof replacement, or even a commercial roofing project, call the pros at BETTER ROOFING USA INC. Call today at (210) 971-8684 to schedule an appointment. We work with all forms of roofing including composite shingles, metal roofing, flat commercial roofs and more. Our rates are very competitive and we offer easy financing (WAC) starting at just $59 a month!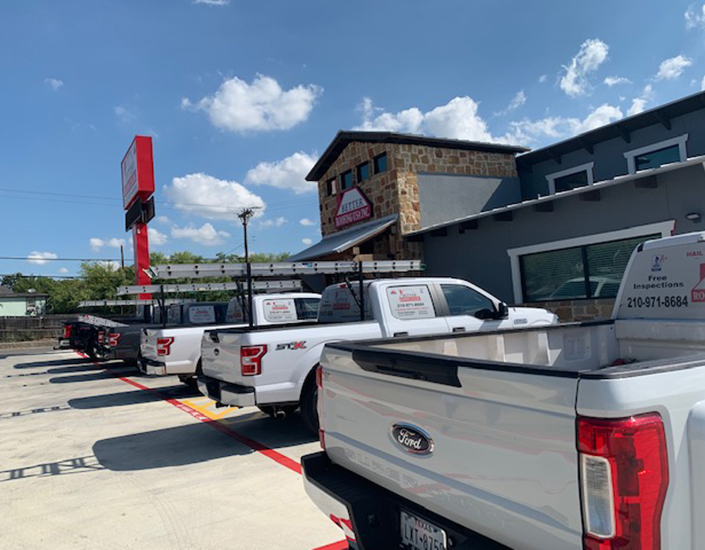 We work We're a local, reputable roofing company with locations in san antonio and austin texas!
If you have a roof leak and need expert roof repair, call our team now!  We'll give you a free estimate on your repair and give you options to choose from! We can also give you a second opinion on a roof repair quote that you've received from another company.  Compare our affordable prices and our labor warranty – we offer a lot of value with our services! Hail damage or storm damage on your roof? We work with all insurance companies. We can help you file your claim and begin repairs quickly.  Call us now!
Many Roofing Options To Choose From
When you're trying to choose a roofing company and a new roof for your home, there's a lot of choices. We'll show you all of your options to fit your taste, your neighborhood, and your budget!
hail damage & storm damage Roof Repair
We are a highly qualified commercial roofing company that can respond quickly for hail damage in San Antonio, Austin and Dallas-Fort Worth Texas. We'll help you file your claim and fix your roof with quality work. Simple.
Local, Reputable Roofers Are Hard-To-Find!
We go the extra mile for our customers and our reputation is built upon that! Roof warranties are only as good as the companies who back them! We've been here for over 25 years, and we plan to be here much longer!
$500 off a new roof -or- $100 any roof repair!
Call for details!  To get this offer, you must mention these discounts when you schedule your free rood estimate. 
Get $200 if You Refer a friend or family member!
Refer your family and friends and get $200 for each referral who has a roof installed! Call for details! 
We let our customers do all the bragging for us! Click to Read our great reviews!
You can feel comfortable choosing us or when you refer your family and friends! Call for details!